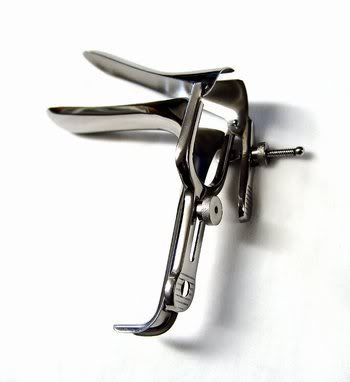 You know what I hate? Going to the doctor. The gyno doctor in particular because well, you know, she sticks a huge metal contraption up my hoo ha, scrapes my insides and then jams her pinkie up my butt hole.


Yeah. Not exactly my idea of a good time. Plus, every time I go I have to get weighed and I hate that. I spend the night before my appointment trying to avoid heavy foods, trying to score water pills so that I can drop some quick water weight and always picking out my clothes carefully. You see, clothes will always add an extra, say...20 pounds to your actual weight, so you have to choose carefully! Between that and the water weight, breakfast I ate and jewlery they should totally subtract like 30 pounds from what the scale says, right? Can I hear an AMEN?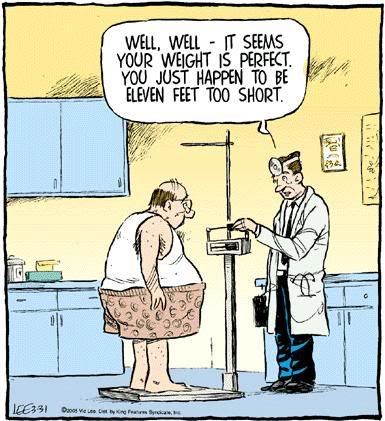 I also shave before my appointments. Everywhere. The first area I shave is a no-brainer. I replace the carpet with some floor boards. You know, to impress the doctor and make things easier for her. I don't want her to have to dig her way through the jungle down there. I can just see her now dressed in a jungle hat and camouflage, hacking her way through my overgrown tropical forest. Yeah. No. The second reason for the shaving is of course to take more weight off. Cause you know, every ounce counts!


So my yearly gyno appointment was yesterday and after the standard blood pressure/weigh in (without shoes of course), I was escorted to the exam room. After a quick question and answer session with the nurse I was asked to remove all of my clothing. And they didn't even turn down the lights or play any mood music. The audacity!

Last year, after my exam, the doctor talked to me about my weight. This was ALWAYS an issue. I hate the lectures but this time was different. She was cool about the whole thing and really inspired me. I started working out, eating right and overall taking care of myself so this time I had some good news to report. I have lost 75 pounds this year and for the first time in god knows how long my doctor looked at me was like, you're doing everything right. You're healthy, you're fit and I'm proud of you!



I laid back on the exam table and stared at the ceiling. Is it just me or would it not be cool to just once look up and see a poster of a naked man pointing at you and holding a sign that says, "YOU are a sexy bitch." :-)

We started talking and she was gushing about how much dedication it takes to do what I did and I told her had it not been for her, I would never have changed. That talk of hers gave me new direction, motivation and support. It was exactly what I needed and I was eternally grateful. When she sat up I noticed that she was crying. I was hoping it was from what I said and not that she had just seen me naked. And it turned out it WAS what I said. Of course her crying made me start crying and we sat there crying and hugging. It was a moment. One that made my day and probably hers too.

I feel different about going to the doctor's office now. I guess certain experiences change a person. Like bringing your doctor to tears and crying and hugging her while your butt sticks out of your gown and goop runs down your legs.