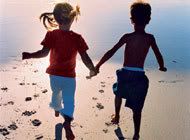 I've been trying to decide whether to post this blog or not because it makes me feel like a totally hypocrital mother. Mostly because I chastise Birdie when she blurts out in public that "mom had a wedgie this morning and had to dig in her pants to pick it out." That's when I grin politely, robot like, and explain that she has tourettes and isn't it sad? And as we are rushing back to the car I daydream about who will play me (Jessica Alba) in the mini-series about my life entitled, "The Woman Who Sold Her Children On Craigslist." I'm always telling her that certain personal information should be "kept in the family." But you guys realize that I'm the same person who writes blogs about my flaming vagina and my husband's first white pubic hair. I guess I don't mind being humiliated so long as I don't have to look you in the eye when you judge me!

So if any of you see Birdie, please don't tell her that I told you so, but....

Birdie has a boyfriend, Birdie has a boyfriend, Neener Neener, NEEEENNNNEEEERRRR!!

The other day she bounced off the school bus and as she gave me a hug she says in a tone reminiscent of old news, "you see that boy behind Debbie? He's my boyfriend."

"Um...Er....Huh?" I say.
"He's my boyfriend. His name is Tyler and we sit together on the bus."
"So he's your friend that's a boy?"
"NO Mom, I SAAAAIIIID, BOYFRIEND."
"okaaaaaaaaaaaay. I hear you. So how did he become your 'boyfriend' "?
"He said he wanted to be part of my Tinkerbell club and when I said he could he told me the only reason he wanted to join was so he could be my boyfriend and I was all 'Whaaat' and he says 'oh yeah, I like you' and I was like 'whaaat'?"
"Uh. HUH."

I pushed for details about how much money he makes and what kind of a bike he drives and what are his intentions. She rolled her eyes. I teasingly said, "Well, I guess that's okay but NO KISSING!" It was a test, you see. I expected her to be all, "ewww, yuck, kissing is gross!" And I could go back to not worrying about her. But instead she got a sneaky little grin on her face and says, "why?". I was not prepared for this so I told her that all boys have cooties and if she kisses them the cooties will infest her mouth and inhibit her ability to eat ice cream. Her eyes opened wide and she said, "Whoa. It's just not worth it!"

Okay, so I have ruined her for life and when she's 30 and sitting across from her psychiatrist crying about how she has intimacy issues her shrink will cross his legs slowly while looking at her over the rim of his glasses and say, "It's all your mother's fault!"