To: My Three Stooges
From: Mama Bear
Re: It's ten o'clock and I have no idea where my children are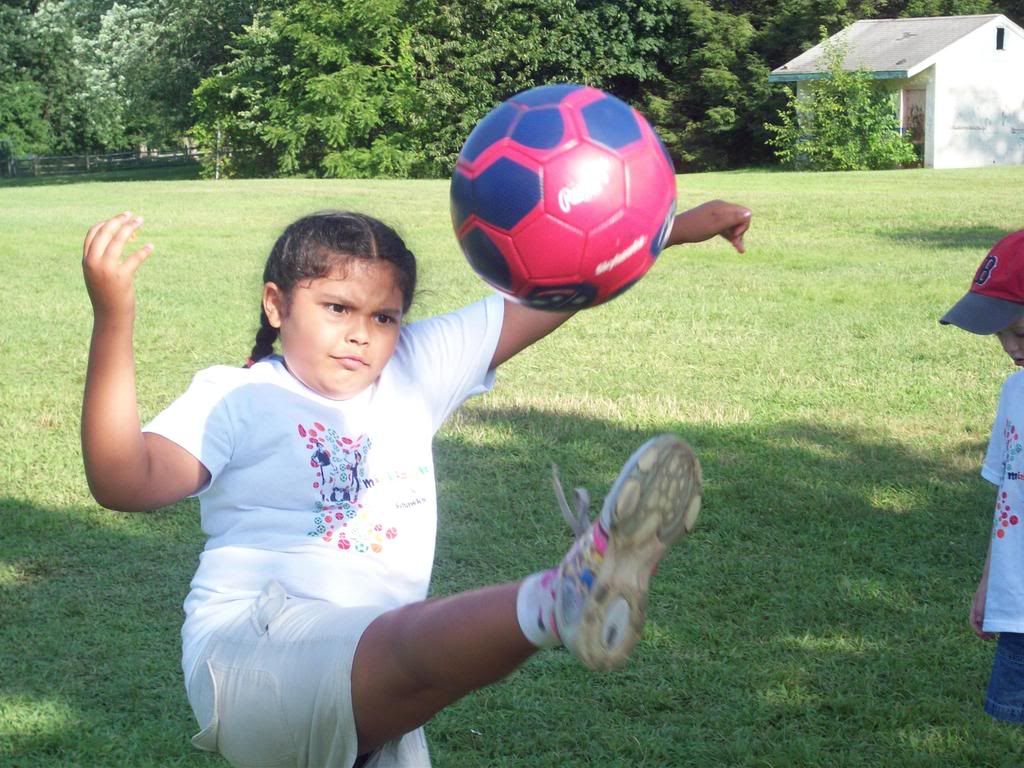 Birdie:
Could you please stop taddling on your brother and sister. Really, I don't need a minute by minute description of the plays your brother is making in the backyard. It's like I'm listening to a really bad sports broadcaster. "And now he's running without his shoes and just stepped in a pile of poop. That'll be a smelly mess to clean up. He's climbing up the slide, you know he's not supposed to be climbing up the slide because the sun is hot and it makes the slide hot and it will burn his butt and then he will start crying and I don't want to hear him cry. And now he's wiping his feet on the grass and looking at me. Why is he looking at me? Tell him to stop LOOOOOOKING at ME!" And that's when I yank my head from my body, set it down on the ground and walk away from you. You're not just you're brother's keeper, you're mine as well. Like that time we were reading a book which featured a cow with her baby calf and when I read the word "calf" you said.."that's not right, what you just said, it can't be right. You are wrong. Wrong, I say, wrong as wrong can be, read it again." And when I read it again you insisted that I MUST be getting my letters mixed up because the letters do not spell "calf", they in fact spell "baby cow" and there is a HUGE difference. I put the book down, ran downstairs and retrieved my college degree, handed it to you and explained that I received this piece of paper which cost $50,000 after four years of demonstrating the ability to read so you don't have to take my word for it that I do in fact KNOW HOW TO
REED
READ. Now, if you want to discuss how I still can't pluck my eyebrows evenly or how one side of my grilled cheese sandwiches come out perfectly while the other side is always burned to a crisp, then I will concede...but reading, I've got that down! You must be watching too many Suzie Orman specials because you've been all about money this month. First you started your own nail salon with tremendously inflated prices. Then you tried to sell me your cat (which is USED by the way) and asked me how much I would pay for your cat that was worth $5.00. I answered "$5.00" to which you scoffed and said "It doesn't matter how much it's
WORTH
mom...what matters is how much you'll
PAY
for it!"
Bubba:
I picked you up from summer school one day and as we were walking away I overheard the teachers marveling at how far you've come and my chest swelled with pride. It's not all peaches and roses though. You've truly found your voice and sometimes it's oozing with ugliness. Like the other day when I went to get you in the morning and you screamed "close the door and GET OUT!" Yeah, you definitely got your point across but I didn't know whether to be proud of you or open the door and crack your teeth. It took about 5 weeks but you are finally potty trained. Okay, so you still poop at night in your night time diaper pants but during the day you go potty. What finally worked? Bribery with Spiderman fruit snacks. Every time you go potty I give you a little pack of treats. You tell me when you need to go and if I leave you naked you will even go to the potty by yourself. The only downside is that you've learned that it's a piss for a treat and since you've trained your bladder to hold or release on command you will go 5 million times a day and soon your teeth will rot out of your mouth. You and Birdie have been playing on Playhouse Disney online. You watch a show featuring Lou and Lou (The Safety Patrol), who are a boy and girl set of twins. They spot different safety violations as they go about their day. And now you both think that you are Lou and Lou and you take pleasure in pointing out all of my transgressions. Like when I drive with my cell phone. You both sit screaming in the back seat. "SAFETY VIOLATION! SAFETY VIOLATION! Driving with a cell phone is a SAFETY VIOLATION!" Yeah? It is but do you know what is a BIGGER safety violation? Driving while reaching back and strangling your kids! You also do this if I move the car 2 inches without a seat belt or if I don't stop at a red light AS SOON as it turns red, even if I'm a mile from the stop light. Funny this is, I can put on lip gloss while looking in the rear view mirror, drink a gallon of rum, balance a fish bowl on my head or play with matches while I'm driving yet those don't qualify as safety violations because they haven't done a show on THAT yet.
Bear:
You started grinding your teeth this month. Every time you do it I get a spinal spasm that travels all way up my back and into the back of my head and I start twitching and vomiting all over. One of these days I'm going to look into your mouth and you won't have any teeth left because they will be whittled down so far down that they barely stick out of your gums! You've become mommy's extra set of eyes when it comes to your brother and sister. You will follow them around as they engage in their shenanigans and then you come running back to me and emphatically tell me what they are doing. Except that I can't really understand what you are saying so I just nod my head and say "oh my GOSH, that is terrible, what happened next?" To which you shake your head and point your finger in their direction and let out a sigh. You look EXACTLY like I do when I've finally had it with them and I tell your daddy that "he better
strangle the life out of them
take care of them before I really lose it!" You have a major crush on Diego from Go Diego Go. Everytime you see him you immediately get a drunken smile across your face and when he sings you scream, throw your diaper at the tv screen and flash him your boobies. You also have a new found fascination with rocks. You pick them out of the yard and excitedly bring them to me as if they were solid hunks of gold. You are so proud of them that I don't have the heart to toss them so instead I've taken to collecting them into a pile. Soon it will be taller than the house. Ever since you were a minute old you have wanted me to hold you. I loved it in the beginning when you weighed next to nothing. When you got older I would stuff you into one of those carriers and tote you all over creation. It was an easy compromise because you were in heaven and I could get around easily or just pop my boob in your mouth if you were hungry. At around 8 months you started to break my back when I had to carry you while I made dinner or washed dishes and I hoped and prayed that you would soon learn to walk and ease the strain on my shoulders. Of course, it was counter-productive that I held you all the time because you weren't learning to walk in my arms! Finally you started walking and I breathed a sigh of relief. But now, suddenly you think I need to carry you around everywhere again. I feel like I'm holding you non-stop and this shit has just got to stop! I'm sore all the time and feel like at any moment my spine is going to split in half. It's now been nearly 2 years since I've held you nearly constantly and I'm starting to have flashes of what things will be like 10 years from now if I don't break you of this habit. You will be 12 years old and I will still have you propped on my hip and your weight will be crushing me into the ground. So here's the deal: either you learn to keep your feet on the ground or I don't let you grow anymore...ever. It might be kind of inconvenient to be a 30 inch teenager so you might consider WALKING ON YOUR OWN! You know what? It's not even your choice anymore. I refuse to pick you up unless your intestines are spilling out or you are on fire and even then I might have to think twice. So there, put that in your juice box and suck it!